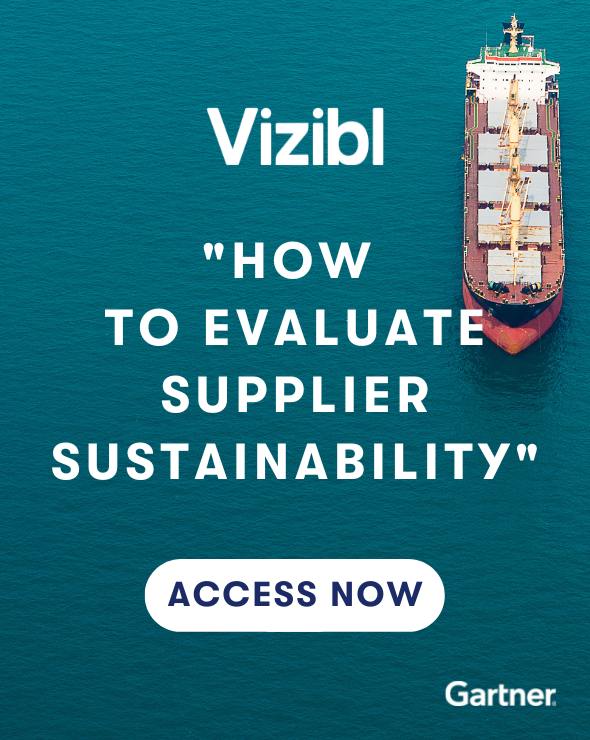 "According to the 2022 Gartner/SPP Sustainable Procurement Pulse survey, 79% of organisations are either fully committed or somewhat committed to achieving sustainable procurement goals. However, more than half of respondents (57%) highlighted the top challenge they face when engaging suppliers is the lack of a standard way to assess suppliers' sustainability performance."
Vizibl is thrilled to offer you continued complimentary access to Gartner research on sourcing, procurement, and sustainability.
In the 2022 Gartner 'How to Evaluate Supplier Sustainability' report, analysts Miguel Cossio & Lindsay Azim discuss sustainability as "a multifaceted concept that includes environmental, social and governance dimensions. Chief Procurement Officers can use this research to evaluate the sustainability performance of their suppliers as they continue to drive their organisation's sustainable procurement strategy."
Read the full report by filling out the form above.
"In a recent Gartner survey, 62% of the most mature procurement organizations highlighted that developing stronger, more collaborative relationships with their supply base is a top priority. The top benefits reported by respondents highlight cost and quality improvements, along with higher engagement in sustainability initiatives and priority access to scarce capacity."1
Source: Gartner, "How to Evaluate Supplier Sustainability", by Miguel Cossio & Lindsay Azim. Published 3 October 2022.
1 Source: Gartner, "Follow Gartner's 4-Step Framework to Implement an Effective Supplier Collaboration Strategy", by Miguel Cossio. Refreshed 7 June 2022. Published 2 February 2021.
DISCLAIMER: GARTNER is a registered trademark and service mark of Gartner, Inc. and/or its affiliates in the U.S. and internationally and is used herein with permission. All rights reserved.