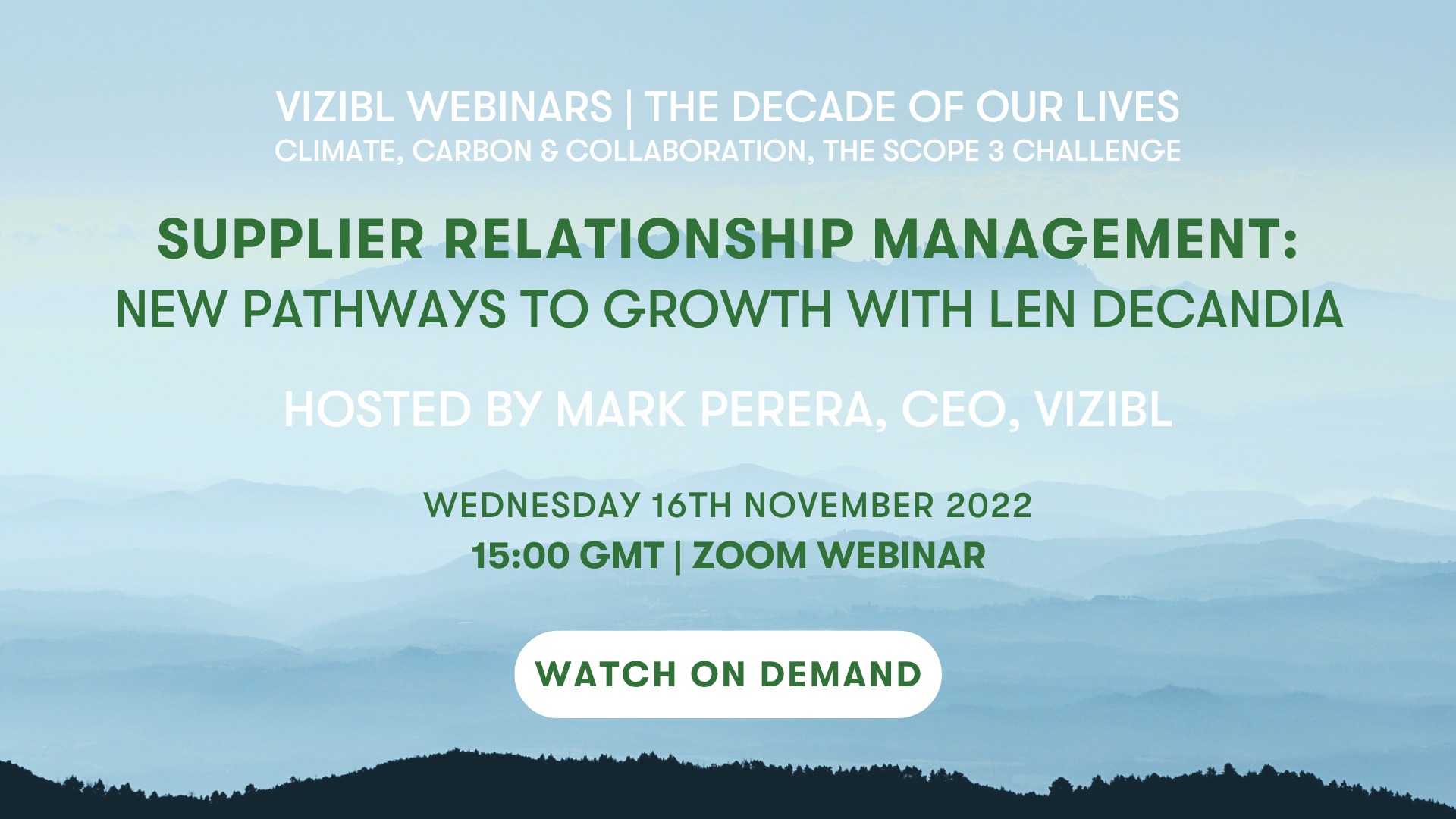 About this session
Len DeCandia is a legend in the procurement industry as a former CPO of Johnson & Johnson, Roche, & Estée Lauder

. After an illustrious procurement career spanning more than 40 years, Len released a whitepaper on the future of supplier relationship management, which you can read

here.
On November 16th, Len joined Mark Perera, CEO of Vizibl, as they took a deeper dive into various themes from the whitepaper, including industry trends, the evolving role of procurement, and how the past can inform the future for a more sustainable world.

Leonardo (Len) DeCandia is a thought leader on procurement & recent recipient of a Lifetime Achievement Award at the World Procurement Awards 2022. He retired from his role as Chief Procurement Officer of Johnson & Johnson in September 2022.
Len rejoined Johnson & Johnson in 2014 after a previous tenure from 1982 to 1996. As Chief Procurement Officer, he was responsible for all global procurement policies, including supplier base strategy development, practices such as relationship management and functional headcount. He also served as a member of the Johnson & Johnson Enterprise Governance Council (ESG Focus) and as Executive Sponsor of the second largest Employee Resource Group at J&J, the Alliance for Diverse Abilities.
From 2009 to 2014, Len was Chief Procurement Officer and Senior Vice President for Estée Lauder (NYSE: EL), where he was accountable for all global procurement functions. He managed the deployment of all global strategies for major categories and pioneered advanced technologies as a platform for growth through supplier innovation, while delivering savings approaching $1 billion during his tenure.
Previously, he was Senior Vice President, Supply Chain Management, at AmerisourceBergen (NYSE: ABC) from 2004 to 2008. He was responsible for all of AmerisourceBergen's procurement spend as well as inventory management activities involving the distribution of branded, generics and over-the-counter pharmaceutical products. He was a member of the Operating Committee and led the U.S. pharmaceutical distribution transformation to the fee for service model and held general management responsibility for the $4 billion generics business. Prior to joining ABC, he was with Roche (1996 to 2004) as chief supply officer for the North American pharmaceutical business.
Len is the founding chair (2002) of the Rutgers University Center for Supply Chain Management, and he is currently the Vice Chair of the Advisory Board at the Rutgers Business School. He currently serves on the Board of Saint Peter's Healthcare System and was also a previous Chairman of the Healthcare Distribution Alliance industry board from 2006 to 2008. Len holds a bachelor's degree in Mechanical Engineering and a master's degree in Business Administration from Rutgers University.
Supplier Sustainability Management: Now Available
The majority of our sustainability challenges sit in our supply chains. From emissions, water, and biodiversity, to supplier diversity and child labour free supply chains, it is indisputable - we cannot operate sustainably without our suppliers.
But getting an accurate picture of supplier sustainability is notoriously difficult, with lack of transparency over suppliers' sustainability performance, unwieldy data from disclosure framework providers, and difficulty integrating this data with existing procurement platforms. This lack of centralisation and transparency makes working on improvements in collaboration with suppliers especially difficult, limiting organisations' ability to make concrete progress on issues like scope 3, water security, sustainable raw materials, and more.
That's why we built Vizibl Supplier Sustainability Management.
If you'd like to learn more about Supplier Sustainability Management, visit:
https://www.vizibl.co/platform/supplier-sustainability-management